Ciao!

We are absolutely delighted to have MAESTRO BEPPE LODA as our very special guest at Wrong Era once again. Italian born, pioneer of DJ Culture and owner of an extremely peculiar style, this will be a unique opportunity to check the magic this man can do behind the wheels of steel. We are also having ZOMBIES IN MIAMI playing live with their Wild Mexican Disco sound. In Pescara we have East Coast Waves with FABRIZIO MAMMARELLA, EVE SANCHEZ, FRANZ UNDERWEAR and ASKOL'D & MARLÒ, the very last one being the newest member of the Slow Motion Family who will also be debuting in Istambul. What a weekend!


Please send an email with your full name to info@slowmotionmusic.it for a place on the concessions list at WRONG ERA.


See you on the dance floor!







WRONG ERA with BEPPE LODA + ZOMBIES IN MIAMI (live) + EMIL DOESN'T DRIVE + FRANZ UNDERWEAR

Friday, 06 July 2012
23:00 – 09:00

BEPPE LODA (Typhoon, Slow Motion)
ZOMBIES IN MIAMI (live) (Electrique Music, Gazebo International, Mexico)
EMIL DOESN'T DRIVE (The Zone)
FRANZ UNDERWEAR (Slow Motion, World Unknown)

LOFTUS HALL
Maybachufer 48
12045 Berlin
http://www.loftushall.de/







BEPPE LODA

Beppe Loda is frequently tagged as the "father of Cosmic Disco", title that he adamantly objects. Not due to modesty, but due to misconceptions attributed to the Cosmic Disco style along the years. Hard to define his style, let his sets speak for themselves.

Born and still resident in Manerbio (Brescia) in Italy, Beppe Loda started djing in 1973, becoming one of the pioneers of DJ culture not only in Italy but in the world. Even before the first discos were opened in New York, Loda was already amusing crowds of two, three thousand people in Italian clubs, being his most significant residency at the Thypoon club from 1980 to 1987.

Loda, though, never stopped djing. With a career which spans along nearly four decades, his musical luggage is immense, not to mention his peculiar eclecticism which mixes Afro and Brazilian beats with New Wave melodies, Funk and Soul grooves with Progressive Rock riffs. There are absolutely no barriers to rhythms, genres and styles in his sets.

Slow Motion is truly delighted to have Beppe Loda headlining for the second time at Wrong Era. This will not only be a unique opportunity to experience a very special DJ set from the maestro himself, but a true lesson about music.

http://www.facebook.com/beppe.loda
http://www.myspace.com/beppeloda
http://www.residentadvisor.net/dj/beppeloda
http://www.discogs.com/artist/Beppe+Loda


BEPPE LODA @ RADIO RHYTHM, NEW YORK


BEPPE LODA – TRAIN WRECK MIX
http://redbullmusicacademyradio.com/shows/2305/








ZOMBIES IN MIAMI

Zombies in Miami are Canibal Asylum and Jenice Estefanhie, one of the most prominent live acts in the Mexican disco scene. Hailing from Aguacalientes, their music is a kaleidoscope of flavours, including italo and disco funk, a hybrid they name as "wild disco".

http://www.facebook.com/zombiesinmiami
www.soundcloud.com/zombiesinmiami


ZOMBIES IN MIAMI – DISCOBOLO (ORIGINAL MIX)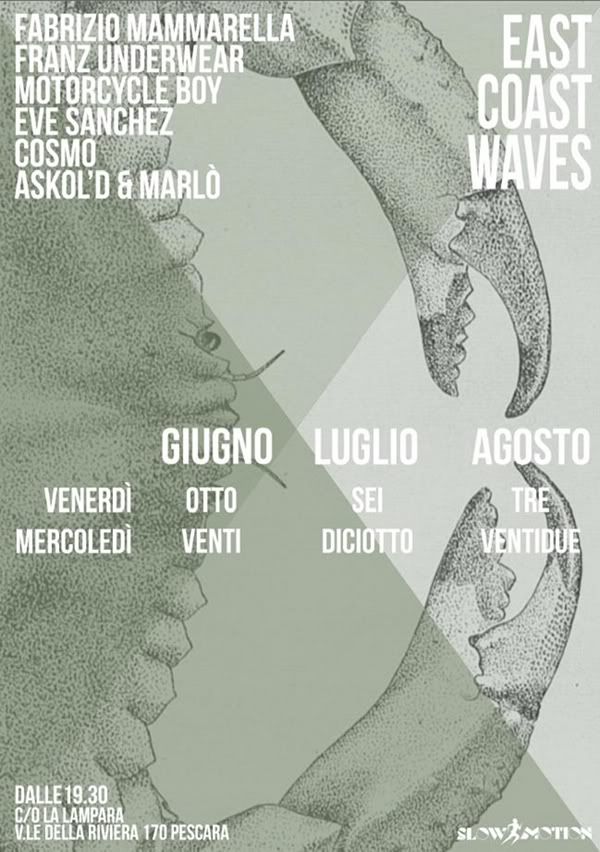 SLOW MOTION and TIPOGRAFIA present:


/// EAST COAST WAVES ///

Slow Motion has prepared something special for the summer of 2012: a series of events taking place on a Wednesday and on a Friday, in June, July and August; where you can dance by the beach, relax, drink, and pay homage to the East coast of the Adriatic. On Wednesday we propose a more relaxed evening, where you can sip an aperitif by the beach. Music starts at seven o'clock, exploring the sounds of disco, funk, soul, R&B, the eclecticism that characterises the DJs from Slow Motion. On Friday parties get a bit wilder until late at night with disco, electro, and hints of techno with:


JULY

Friday 6 – Fabrizio Mammarella + Eve Sanchez
Wednesday 18 – Franz Underwear + Askol'd & Marlò


TIPOGRAFIA – www.tpgrf.com


LA LAMPARA
Viale Della Riviera, 170
Pescara – Italy
65048
Phone: 00 39 085 75210
lalampara@live.it
http://www.lalamparapescara.it/

Opening times: 18:00 – 04:00


Event links
Facebook: http://www.facebook.com/events/231915526924919/













MARLò & SEMITH AKAY & GOKTAN ABACI @ KASETTE – ISTAMBUL

Friday, 06 July 2012
22:00 – 04:00

MARLò (Cozmo Sphera – Slow Motion)
SEMITH AKAY (Luxury Lounge fm 102.0, Genc TV, MIMM)
GOKTAN ABACI

KASETTE
Asmalı Mescit Mh., Korsan Çk 6, Beyoğlu
34440 Istanbul, Turkey
http://www.facebook.com/kasettetaksim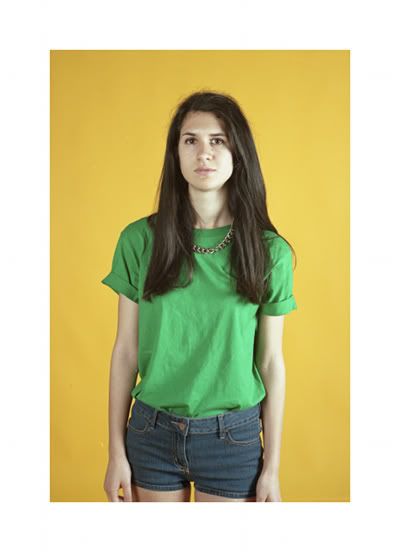 MARLò

Marlò does not define her music ascribing it to a specific genre, although her influences are disco, house and dance music. Her sets are a swirl of melodic but also lightning psychedelic, acid sounds to come back then to the Chicago synth and moog effects. Weaned from Tipografia, the club was defined by Rolling Stone Magazine as the "Italo Disco Heaven". She began to collaborate with Led X in Bologna in 2011 and in 2012 became part of Slow Motion (independent dance music label). Marlò is also ½ of Cozmo Sphera project created in collaboration with her friend Askol'd (Andrea Salute). Spreading the word of good quality music and create a warm and engaging dance floor are the leitmotiv of her music.

http://soundcloud.com/mari-m
http://soundcloud.com/cozmo-sphera
https://www.facebook.com/pages/Cozmo-Sphera/298619673510998










Next SLOW MOTION parties:

07 July 2012 – Gomma Records Party with Franz Underwear @ Flamingo – Berlin
Resident Advisor: http://www.residentadvisor.net/event.aspx?384549

13 July 2012 – SLOW MOTION with FRANCISCO + DJ ROCCA @ Salon Zur Wilden Renate – Berlin, DE
Resident Advisor: http://www.residentadvisor.net/event.aspx?382412

28 July 2012 – ASTRO SELECTA with FRANZ UNDERWEAR @ Farbfernseher – Berlin, DE
Resident Advisor: http://www.residentadvisor.net/event.aspx?382138







SLOW MOTION ON SWEAT LODGE RADIO

SLOW MOTION is on Sweat Lodge Radio every Friday at 18:00 (Berlin time) and the same program goes on air again on the following Thursday. One hour with Slow Motion DJs and very special guests playing a fine selection of dancing tracks, from brand new stuff to old classics.

http://www.sweatlodgeradio.com/