RODION & MAMMARELLA – APPENNINI EP
Title: Appennini EP
Artist: Rodion & Mammarella
Cat.: SLOMO 010
Label: Slow Motion
Format: Vinyl 12″ and digital
Release date: 29 August 2012
Style: Electro, Italo
Tracks:
Escape From Kyoto (Original Mix)
Majella (Original Mix)
Escape From Kyoto (Alien Alien Dub)
The name 'Appennini' comes from the Italian mountains that split the country into two parts, but at the same time links Rome and Chieti where Rodion and Mammarella are from. The duo have an extensive collection of analog equipment which they have used to create the collection of tracks ranging from classic Roland Juno, Jupiter and Moog synthesizers, Oberheim & Veroma drum machines through to Roland Space Echo and Moogerfooger FX Units.
'Escape From Kyoto' opens the release, incorporating worldly percussion, a staggering arpeggiated bass hook and trippy lo-fi sonic tones creating a raw energetic movement. Subtle filter-modulation on the atmospheric elements make for a vacillating flow throughout the composition, while 80's style synthesizers are worked in to the break giving off an effortlessly cool retro vibe. The vintage feel is further brought to fruition by working back in the rugged arp-line in combination with a vocoded spoken-word, further fuelling the old school aesthetic.
The 'Alien Alien Dub' version of 'Escape From Kyoto' strips back the more upfront feel of the original, giving off a slo-mo semblance. Intricate placements of big room reverb bursts and precise delays create an astonishing background depth. Bright synth stabs create a rolling melody, driving the track and invariably fluttering in pitch, to create an intense evolving feel.
'Majella' again captures the essence of Italo-Disco with an 8-bit electronica feel, rich synth lines full of depth play off each other, constructing delicate melodic intricacies in the arrangement. A simple yet fitting sturdy 4/4 drum pattern runs throughout allowing ample room for the euphonious elements to take the limelight. The Italian duo apply various production techniques to the sequences such as warbling tremolos, heavy choruses and filter sweeps fabricating a blossoming edginess on the track.
Rodion & Mammarella are heavily inspired by the sounds of Giorgio Moroder, Black Devil Disco Club, their beautiful surroundings and fine wine, this is portrayed beautifully through their tasteful disco music with class and intensity.
Featured on:
Data Transmission – Podcast 244 – Brioski
http://datatransmission.co.uk/Podcast/417/
Mutant Disco Podcast #105 by Leri Ahel (Croatia)
http://soundcloud.com/mutant-disco/mutant-disco-105-by-leri-ahel
Special Housin Association: "Moroder for the modern masses? Oh yes!"
http://specialhousinassociation.com/rodion-mammarella-appennini-ep-slow-motion
Ibiza Voice: "These guys are two of the best producing this sound at the moment, and this release, while it won't surprise anyone, preserves their cosmic credentials."
http://www.ibiza-voice.com/story/news/4267
Soundwall.it: "Roba che anche il maestro Giorgio Moroder approverebbe in pieno e che non dispiacerebbe nemmeno ai Kraftwerk."
http://www.soundwall.it/rodion-mammarella-appennini-ep/
Pig Mag (Italy): "Sintetizzatori analogici parecchio anni '80 (amen!)"
http://www.pigmag.com/it/2012/07/06/appennini-il-nuovo-ep-di-rodion-e-fabrizio-mammarella/
Colleen Murphy (DJ Cosmo / Classic Album Sundays): "I will definitely support this."
Justin Miller (DFA / Have a Killer Time): "Stabbin!"
Stevie Kotey (Chicken Lips / Bear Entertainment): "I've been lucky enough to hear and play some of the material already and I can say that they raise the roof. The remix is hot too!"
Discodromo: "Super! The Alien Alien remix is an evil MASTERPIECE for altered mental conditions."
JD Twitch (Optimo, Glasgow): "Love it!"
Cosmo Vitelli (I Am A Cliché): "The Alien Alien dub is great."
Severino Panzetta (Horse Meat Disco, UK): "Escape From Kyoto original and Alien Alien remix are great. Great italian electro vibe."
Damon Martin (Disco Bloodbath, UK): "Love it! Great music."
Rory Phillips (Trash, Durrr, UK): "I love it! Will be playing Escape From Kyoto for sure."
Duncan Stump (Mock & Toof, UK): "Great work. Very strong release."
DiskJokke: "Love it!"
Bonar Bradberry: "EXCELLENT ALL ROUND – DEFINITE PLAYS."
Matt Walsh (Clouded Vision, UK): "Absolutely love the Alien Alien dub."
Tim Paris (It's A Fine Line, Challenge, UK): "Super cool EP. I will hammer the Alien Alien remix!"
Munk (Gomma, Germany): "Escape From Kyoto. Super track!"
Brioski (Italy): "Majella is already in my heart."
Wojciech Taranczuk (Catz 'N Dogz, Poland): "Nice EP guys! Will play."
Nick Chacona: "Geez, can I please come back to the italo electronic disco world!!! Super dope."
Lou Teti (Tigers On A Leash, New York): "Another great release!"
Ulysses (Throne of Blood/Scatalogics/Neurotic Drum Band): "Great stuff! The Original mix of "Escape from Kyoto" and "Majella" are my favorites."
Weekend Express (Australia): "Nice EP. Really feeling Escape From Kyoto. Great work!"
Summer (Brendon Collins – Tulipa Recordings, USA): "Some cool stuff here."
Wawashi (Hard Ton): "Really nice, I love it. Super production (as usual)."
Hiem: "Future Italo yeh perfect, the original for me."
Leri Ahel (Mutant Disco, Croatia): "Will definitely play."
David Ducaruge (Acid Washed, France): "Great release!"
NOIA – LOOKING FOR LOVE (AJELLO VERSION)
Title: NOIA – Looking For Love (Ajello version)
Artist: Ajello
Cat.: SLOMO 009
Label: Slow Motion
Format: Vinyl 12″ and digital
Release date: 21 June 2012
Style: Electro, Italo
Tracks:
A1 Looking For Love (Ajello version) (5:42)
As Ajello say:
"The idea for a cover version of N.O.I.A.'s 1983 hit "Looking For Love" was born a couple of years ago – an idea of Alessandro Piatto, younger brother of Davide Piatto, original member of N.O.I.A. As soon as Alessandro proposed it, we asked whether we could have the original tracks but, unfortunately, they have been lost over the years. Immediately his brother Davide brought together the original lineup of N.O.I.A. and locked them up in the studio to record the voice from scratch and some of the synth parts. Our intervention was first on the drums, replacing the original for a more uptempo beat, and then the bassline, shaping it to a more modern sound. The vocals were treated with filters and echoes, and we also added some new guitar parts and synth lines. It was an honour to us, Ajello, to bring to light an Italo-disco classic that has really influenced us and we have put all our efforts to create a version that is timeless, as much as the original. "
About Ajello:
Ajello are Luca 'DJ Rocca' Roccatagliati and Fabrizio 'Taver' Tavernelli, coming from Reggio Emilia, in the north of Italy. They have met each other in the 90s but the Ajello project gained prominence during the noughties with their residency at the Maffia Club. Their sound ingredients are a mix of electro, new-wave, italo-disco, disco, neurofunk, eurodance, space sounds and early house music.
http://www.facebook.com/pages/Ajello/31497313975
http://soundcloud.com/ajello
http://www.discogs.com/artist/ajello
http://www.residentadvisor.net/profile/ajello
THE RIMSHOOTERS – DEEP ELECTRIC EP
Title: Deep Electric EP
Artist: The Rimshooters
Cat.: SLOMO 008
Label: Slow Motion
Format: Vinyl 12" (Picture Disc) and digital
Release date: 21 February 2012
Style: Electro, Italo, Disco House, Acid House, Cosmic, Deep, Disco
Tracks:
A1 Calling You (6:44)
A2 Deep Electric (7:08)
B1 Like on a Peacock Island (6:46)
B2 Deep Electric (Fabrizio Mammarella Version) (6:25)
Slow Motion family proudly presents The Rimshooters (Massimiliano Pagliara & Rotciv).
The name comes from a special obsession for rim shot drum sounds, typically found on famous and legendary Roland drum computers such as TR-808, 909, 707, which both of them had already used in their individual productions. The final result is a mixture of classic and vintage sounding tracks yet modern, through the use of old synthesizers and drum machines as well as software artifacts and techniques.
Calling You leans heavily on excerpts from Answering Service's classic "Mr. Telephone Man", but The Shooters knits it into a brand new sweater, with added beefyness, lush strings and acid lines, turning out a hypnotic neo-acid chicago-stomper from this good old disco-groover.
Deep Electric, well, obviously – deeper and more electric. Drenched in effects and thick 80s chord-stabs, it's on the moving, yet a more introspective tip.
Like On a Peacock Island brings a more mid-80s italo vibe to the stage, but steadily builds with the power and punch of the current decade.
Last but not least, Fabrizio Mammarella version of Deep Electric whips up a wicked remix with his destinctive edgyness and demon-plagued synth aestethics. Starting off in a breaksy and, almost ravey 90s fashion, then gradually transforming into a more filthy discoid adventure, deep and rugged.
(Henning Severud, Berlin, Jan 2012)
FRANCISCO – DISCO WIZARD (PICTURE DISC) – super-limited edition
A shiny picture disco for Slow Motion Records release number 7 – Disco Wizard by Francisco from Jolly Music. Beamed from distant satellites via 1983 and picked up by a crack team of Berlin based Italian disco commandoes, the Disco Wizard brings to mind Space, the tougher end of pre-84 Italo, guys with beards and Grace Jones and Amanda Leat dancing the night away. A nagging baseline propels the track forward with alternating male and female vocals that coo and tease, whilst twinkling refrain evokes the Giogio Morder's classic 'The Chase'. On the flip side the dub mix strips away most of the vocals and injects some serious strut into the beats. The rougher, tougher cousin of the original to send the boys and girls wild with cosmic desire. You have been warned.
Title: Disco Wizard
Artist: Francisco
Cat.: SLOMO 007
Label: Slow Motion
Format: Vinyl 12" (Picture Disc)
Release date: 15 November 2011
Style: Italian Disco
Tracks:
A1 Disco Wizard (Space Mix)
A2 Disco Wizard (Dub Version)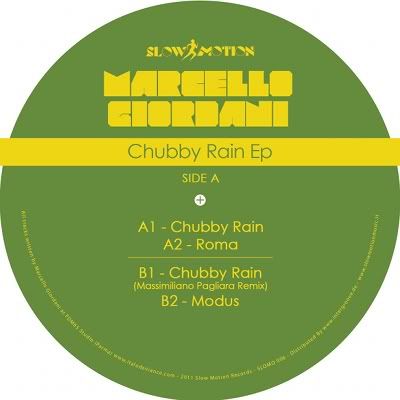 MARCELLO GIORDANI – CHUBBY RAIN EP
We are pleased with the latest addition to our Slow Motion family – Marcello Giordani. Disco overlord, laser cowboy and cosmic heartbreaker.
Chubby Rain takes you on a journey through inner space and outer dimensions where space glows a dark-indigo and thoughts and feeling come and go like waves on a beach. With wandering arpeggios, washed out digital strings and distant vocals, there's just the right amount of strut in the precision-engineered beats to take propel you through the night.
Roma brings us back closer to earth with a smattering of classic disco sounds reinterpreted for a parallel universe. Playful synths make us think of strange animals in distant galaxies, and inter stellar adventuring with a happy ending.
Flip the record over and Masimilliano Pagliara breaks Chubby Rain's epic journey in to smaller, shaper hops that still retain the best parts of the original but adding extra rocket boosters to make for a more exciting ride.
Finally Modus, the dirty, sexy robot cousin that people only talk about in hushed digital voices. She slow, sleazy and spilling oil out of every hole. Is that reggae she is listening to? Don't slip.
(Gareth Owen, Berlin, Sep 2011)
_____________________________________________________________
FABRIZIO MAMMARELLA – TRANSISTOR REPLICA EP
Number 5 from Slow Motion and this time Fabrizio Mammarella steps and delivers the goods.
Mercator gallops along with the drums and percussion having more than a hint of the post-disco New York 1983′s about them. The super-squelchy acid is from Chicago '87 via London '88 and Ghent '89 but absolutely, resolutely now and the soaring lead lines and FX turn the whole thing into one of those utterly airborne slices of prime-time club music that is far more champagne-fuelled first class transatlantic travel than a cheap and cheerful Easyjet set short hop flight where you have to pay for your peanuts.
Lie (Living in Ecstasy) takes the tempo down a notch or two in heavy eye-lidded mdma kind of way and heads firmly into red light sleaze territory. It's so sleazy in fact that if you nip off for a few minutes to get the drinks in it'll very likely polish off all your drugs and try it on with your girlfriend. Chunky acid, warm pads, and broken robot noises are very much the order of the day here.
Skymed keeps the tempo down but stomps that much harder and goes straight for the 80s jugular with deep squelching moogy bass and lead lines, heavily reverberating claps and the pads set to stun instead of massage. A healthy dose of digital delay feedback and outer space fireworks going off all over the place seal the deal with this one.
(review by Andy Blake, May 2011)
Side A
A1. Fabrizio Mammarella – Mercator

Side B
B1. Fabrizio Mammarella – Lie (Living In Ecstasy)
B2.Fabrizio Mammarella – Skymed

_____________________________________________________________
ALIEN ALIEN – BLACK GURU EP
Release number four from our Latin lair, and this time we are very excited to introduce a mystery project – Alien Alien with two tracks; Black Guru and Sambaca.
Alien Alien is the shadowy side project of Hugo Sanchez and Rodion who have distilled for us two stone cold cuts of percussive, rolling disco for the dance-floor, backed up with remixes from Horse Meat Disco's Severino and The Heels of Love.
Black Guru is all about shaking cowbells and a synth line that is somewhat reminiscent of the Tom Tom Club. However a creepy vocal and neon lasers take the track to a whole different stratosphere, where all the colors and creeds of the galaxy throw down as one for some serious hands in the air future disco action. Severino's LDB-NYC mix breaks things down to a less frantic pace, but makes up for the change in energy with some seriously heavyweight bass and classic house piano stabs,
Flip the record over and it's all about the cosmic flex of Sambacca. Low and sleazy with a speaker troubling low-end, this hypnotic workout takes you on a journey through oceans and forests , beaches and jungles. Shaking tambourines and rattling drums envelop a vocal that brings to mind the classic Northern Exposure mixes of old. Finally The Heels of Love take Sambacca and add just a touch more urgency with bubbling synth swooshes, extra drums and a bass so thick you could chew on it for hours. One for those more intense moments on the dance-floor.
_____________________________________________________________
DISCODROMO – STARS AND RAIN EP
From the beating Latin heart of the modern disco world, Discodromo join us for their first Slow Motion release and our third overall. With two original tracks and two stunning remixes this pair of cheeky italians first bring us the laid back charms of Stars and Rain featuring the vocal talents Miss Plug In. Strutting funk and cascading synths are the order of the day on this taut laser workout. With a bitterest melody and relentless drums, this is a cinematic excursion into 10am disco music. Miss Plug In's blank eyed vocals are one part Rimini, to two parts Berlin giving the track a hazy, druggy feel that will work like magic on the even the most demanding dance floors.
Next up is Etzel reminiscent of Yello and YMO, an epic disco workout that begins as something you may hear at a Balearic beach party, before the beat drops and it's hands in the air and feet on the dance floor for a very modern take on the Italo sound.
Remixes come courtesy of Club Silencio who turn in a dirty house mix of Stars and Rain, complete EBM flourishes that may or may not be a Nitzer Ebb sample. Stripping things back to the bare essentials and then bringing in their own percussion and samples, Club Silencio cut up the vocal for a very hypnotic effect. Label boss, and hardest working man in disco Franz Underwear turns in a peak time club version of the track, with a nod to the underground disco clubs of Berlin.
_____________________________________________________________
MOTORCYCLE BOY – WRONG ERA EP
The second release, "Wrong Era EP" is about the charms of Italy's very own Motorcycle Boy who delivers two stunning original tracks backed up with white hot remixes from The Heels of Love and old school disco hero Fabrizio Mammarella.
_____________________________________________________________
_____________________________________________________________
SLOW MOTION – VOLUME 1
The 2009 is the year of the launch of the label "SLOW MOTION RECORDS"; A platform for high quality electronic disco form the home of Italo, has been lacking for some time, and so we wanted to take our time in finding the best possible music that represents the sound we love and the music of our parties.
Fusing the best of a new breed of Italian producers like Clap Rules, Motorcycle Boy and Fratelli Riviera with serous heavyweights like Beppe Loda, Slow Motion Records represents the future sound of Italian disco.
_____________________________________________________________
_____________________________________________________________